WMCentral Enterprise Suite is an end-to-end enterprise grade Warehouse Management System that can also integrate with Automated Storage and Retrieval System.
This suite covers all warehousing activities such as receiving, put-away, storage, inventory management, supply, replenishment, kitting, order fulfillment, picking, checking, packing and dispatch, by keeping track of each of the activities leveraging advanced data capture using Barcode labelling / RFID tagging and related technologies.
It provides visibility of inventory through the entire life cycle of goods getting processed through the Warehouse Management System, right from the time it enters the warehouse until it leaves the facility.
WMCentral not only automates warehouse operations, but it also supports in significantly reducing the operating cost by shortening order-fulfillment cycles and maximizing efficiency. It boosts productivity by using Task Interleaving features for high throughput, reduces inventory costs implementing MOQ and automated replenishment to minimize holding excess stock and improves inventory accuracy.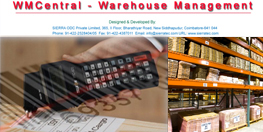 Features
Dock Management

Inbound / Outbound Trucks
Priority Wise Loading / Unloading
Truck Status Monitoring & Route Group Assignment
Voice Announcements

Storage Locations Management
Receiving

Weighing (Automated / Manual) for Acceptance / Rejection
Palletizing
Automated & Manual Put-away / Storage
Storage Verification
Goods Receiving Confirmation
Goods Return Management
Quality Inspection

Cross-docking
Supply for Pre-packing and Packing
Packing

Production Planning
Automated and Manual Pre-packing
Storage

Order Processing

Wave Management
Picking and Packing (Export)
Pick to Light
Dispatch Packing, Sorting & Loading

Task Interleaving
Replenishment
Invoice & Invoice Reversal
Inventory Management

Raw Materials
Packing Materials
Finished / Semi-finished Goods
Tools & Spares
Raw Materials
Inventory Cycle Count
Equipment monitoring and management

Special Features:
Automated, Semi-automated and Manual operations
Robust & Load balancing every-step-of-the-way
Extensive Alerts for operators for required manual actions
Manual overrides in all areas
Floor-plan based Inventory views at various levels like rack, bay, bin etc.
Extensive Transactional and Summary Reporting
2-Way Live integration with ERP Systems

Integrates with all components of Automated Systems including:

Picking Systems
Lifting Systems (Cranes) & Automated Transportation Systems (Laser Guided – LGV, Magnetic Guided – AGV, Rail Guided – RGV, Sorting Vehicles etc.)
Sorting Systems (Steel Belt, Chute etc.)
Label Printers/Applicators
Scanners

Technical Features

Web based Administration & Reporting
Windows Application for high-speed operations
Hand-held Device Applications for mobility
Highly optimized database operations
Centralized control of all equipment operations
Readily integrates with popular Barcode & RFID devices
Benefits
Full visibility and accuracy of available Inventory
Excellent picking and delivery accuracy
Highly optimized storage & retrieval and improved operations throughput
Improved resource planning, handling & management and minimizing of down-time
Allows short interval scheduling, grouping of operations (waves) and release – allowing easy management and coordination of several parallel and sequential activities leading to high efficiency
Aids efficient order processing through optimized pick paths
Minimizes idle time of equipment and distributes load avoiding bottlenecks
Employs intelligent logics while driving the ASRS to optimize put-away and picking operations by arranging a put-away en route next picking operation reducing "deadheading" (empty trips)
Allows for 24×7 operations, to achieve maximum throughput/volume with minimum down time in the Warehouse
Helps in controlling hundreds of equipment including the conveyors, cranes, Automated Transportation Systems and Automated Sorting Systems automatically
Allows for unhindered Warehouse Operation, while allowing to plan for inventory check of the entire stock in Warehouse in a phased manner